Choose the Best Dumpster Rental Milan MI Has to Offer!
When it's time to have your waste hauled away, be sure to choose the #1 dumpster rental Milan MI has to offer with Robert's Roll Offs. We offer affordable and dependable dumpster selections for every project and are committed to providing exceptional customer service in a convenient and timely manner. We have a team of dedicated staff who are eager to guide you through the booking process so that you can select the right size dumpster for your next project, so get in touch with us today!

We are happy to provide dumpster service in Milan, Michigan, and all nearby communities in Lenawee County. We have provided waste management dumpsters to customers completing a broad scope of projects over the years including yard waste removal, kitchen and bathroom remodeling projects, roofing and construction projects, and demolitions. With our dependable roll off dumpster selections, no project is too big or small. Whether you're clearing out the garage of unwanted clutter or managing a large roofing replacement project, the added support of the best dumpster rental Milan MI trusts will resolve your waste disposal needs quickly, economically, and conveniently.

Are you holding off on completing a home renovation or a commercial project because you aren't sure what to do with the waste? Give us a call and talk to any member of our team to get more information about the best dumpster rental Milan MI homeowners and businesses trust for a wide range of projects. We are proud to have friendly, attentive, and experienced staff who will be happy to answer your questions and help guide you through the dumpster rental process in no time. Contact our team at (517) 280-3867 to reserve a dumpster rental in Milan MI or book online with a few easy clicks.
Commercial and Residential Dumpster Rental Milan MI Can Trust for All Projects
You can utilize our commercial or residential dumpster rental Milan MI homeowners and contractors trust for practically any project. If you're generating large amounts of waste that you cannot use a regular bin to dispose of, a roll-off container will make your waste management more convenient and efficient. We are happy to provide you with the best dumpster rental prices Milan MI has to offer combined with exceptional customer support from our experienced team. Whether you are starting a long-term renovation project for a client or managing a commercial demolition, our roll-off bins will guarantee fast waste disposal. Our drivers will deliver the bin, leave it for you to fill, and be back to haul it away as soon as you're ready.

We are the go-to residential dumpster rental Milan MI homeowners rely on for small and large waste disposal projects alike. Over the years, we have worked hard to gain a reputation as the top source for local waste management by providing unmatched customer service and roll-off options for all our customers. We offer free consultations and we have a team of friendly staff to help our customers through the process from choosing a dumpster to reserving a delivery. We care about the success of your project and we guarantee on-time delivery and pick-up to help support your goals.

Robert's Roll Offs is a leader in the local waste management industry and we have partnered directly with Milan Landfill Incorporated to ensure that waste is disposed of sustainably and in an environmentally conscious manner. When you book a commercial or residential bin from our team, you can be sure that your waste will be disposed of ethically in accordance with all city, county, and state regulations.

If you have questions about hiring a dumpster in Milan MI, feel free to contact our team at (517) 280-3867. We are available to answer all your questions and make sure this is a simple and straightforward process from start to finish.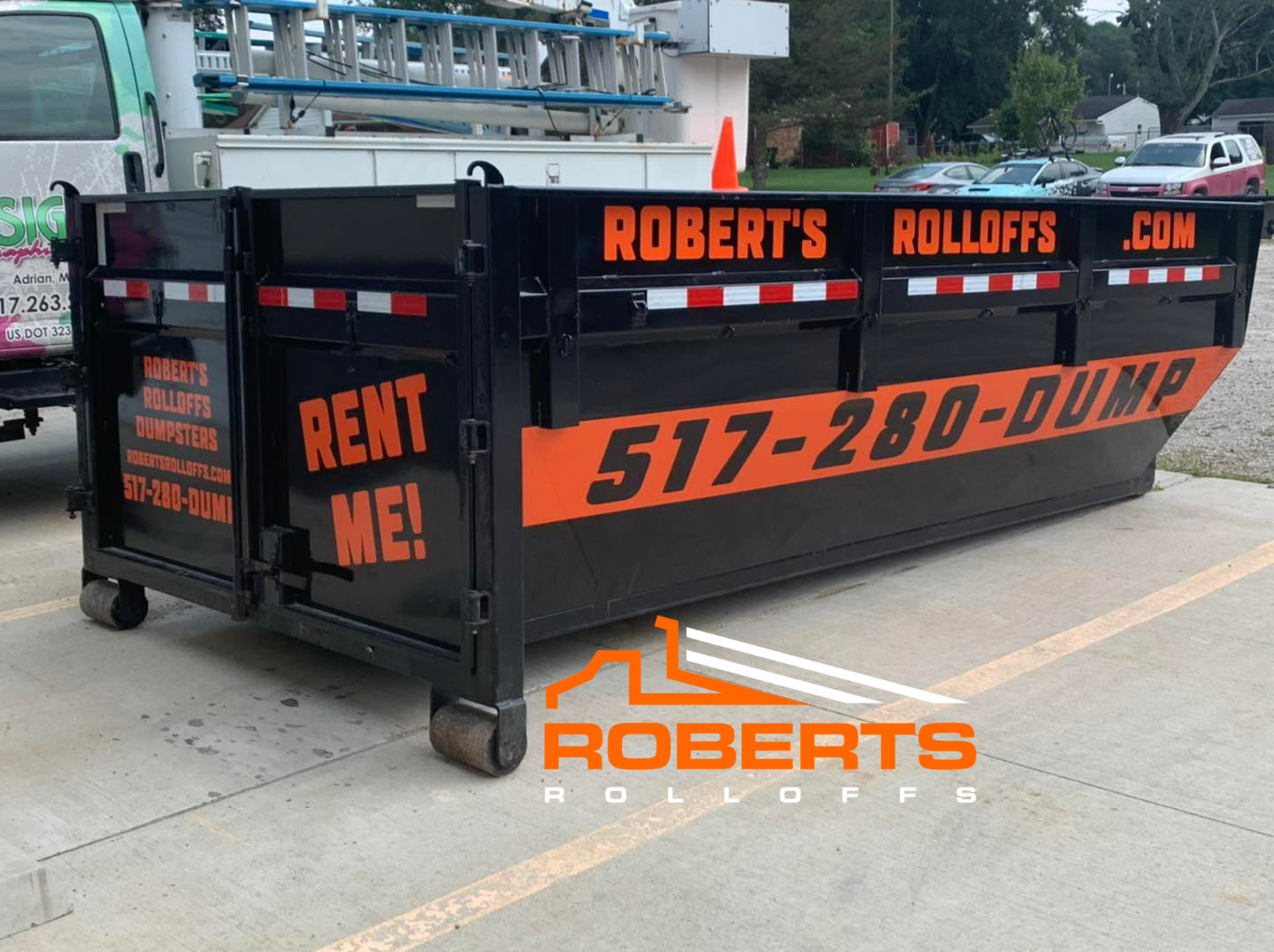 Construction Dumpster Rental Milan MI Contractors Use Year-Round
Contact our team for the best construction dumpster rental Milan MI local contractors use for new building development and demolition sites. We are dedicated to providing you with on-time dumpster service to ensure that your work site is free from debris pile-up. Keep your work site on track and ultra safe with the added support of one of our reasonably priced roll-off containers.

You only need to load the roll-off container and notify our team when it's filled for prompt removal from your site. Our open-top roll off dumpsters are easy to load and designed to make loading heavy and bulky items very convenient. If you are searching for a dumpster rental near me Milan MI trusts for a one-time project or ongoing construction, renovation, or demolition project, look no further. We have partnered with local contractors and construction firms who rely on us to provide them with dependable waste containment dumpsters for small and large construction site clean-ups. Book yours online today!

Roofers Book our Milan MI Construction Dumpster Rental Options For All Projects
You will find the best Milan MI construction dumpster rental options for all types of roofing projects with the help of Robert's Roll Offs. Whether you are planning a commercial roofing replacement for a client or a residential roofing repair, we are confident that you will find the best dumpster to get rid of the debris in one trip with our selection of heavy-duty roofing dumpsters for rent.

You can dispose of a wide range of roofing debris and waste materials including nails, shingles, wood, roofing tiles, underlayment, trim, and general roofing debris. Reserve the #1 Milan MI construction dumpster rental roofers and other construction professionals use year-round for effective roofing waste clean-up and containment. With the waste out of the way, you can focus on the success of your project without any safety concerns. Simply notify our driver when the dumpster is filled up for quick and seamless removal.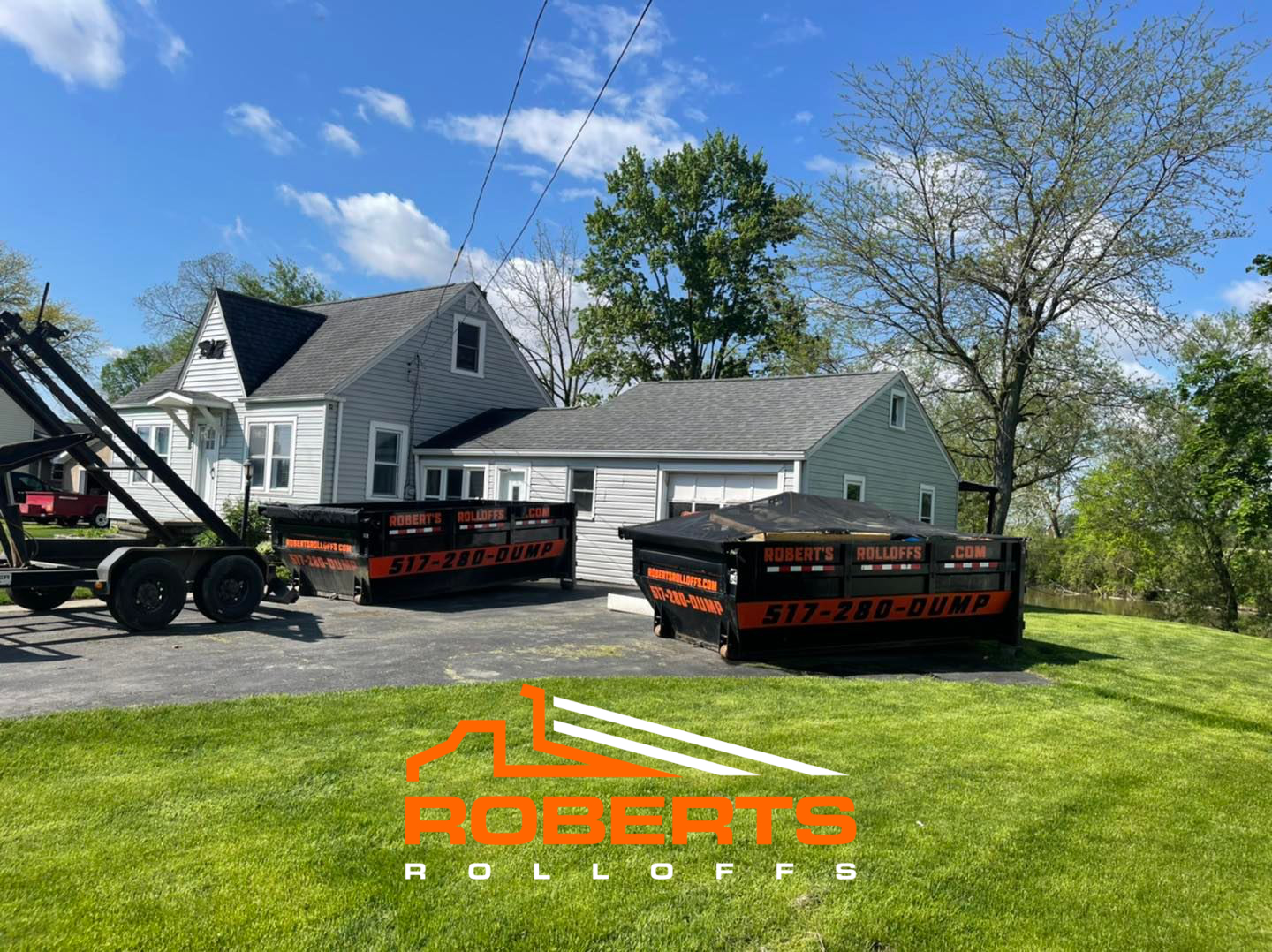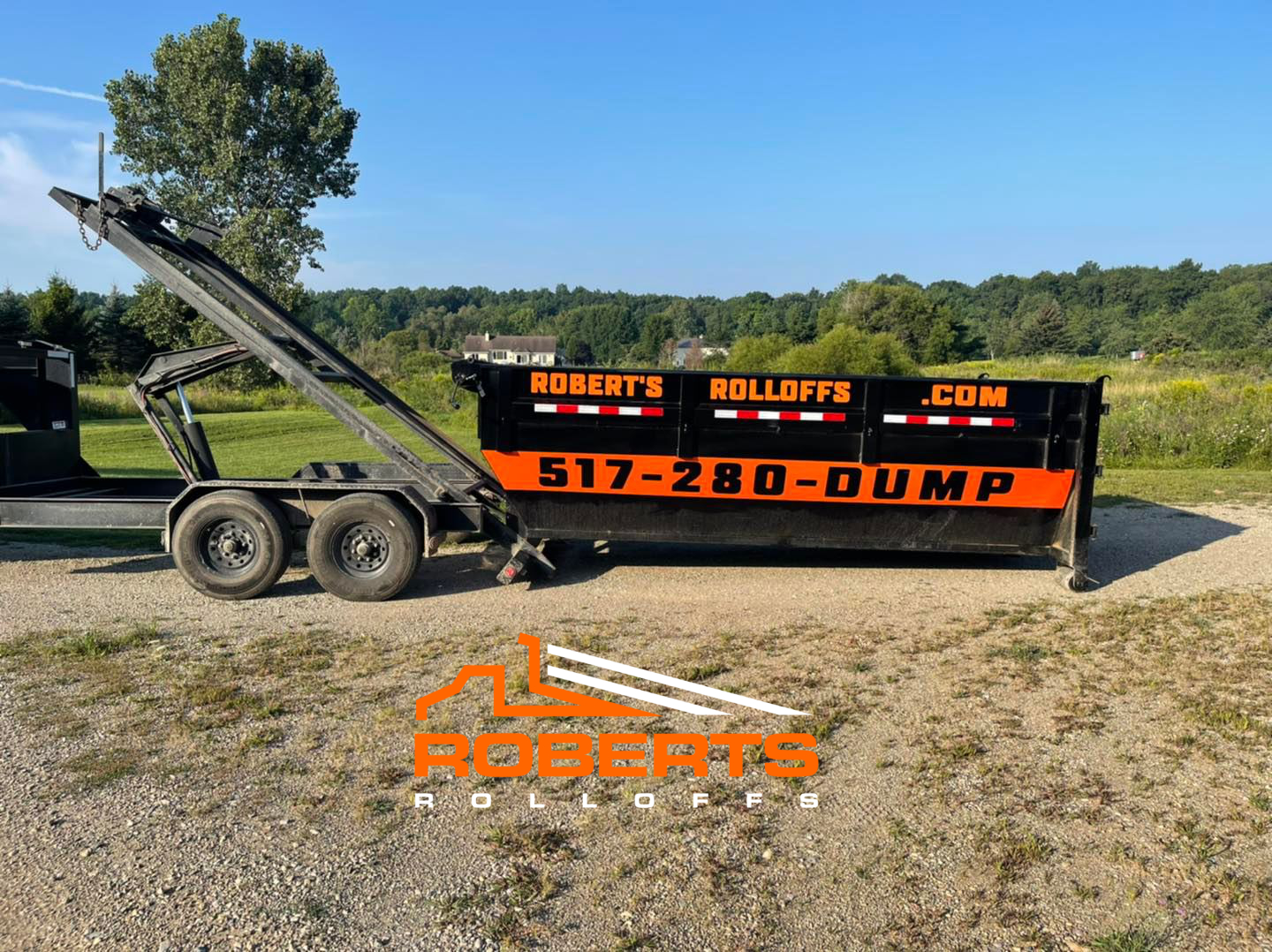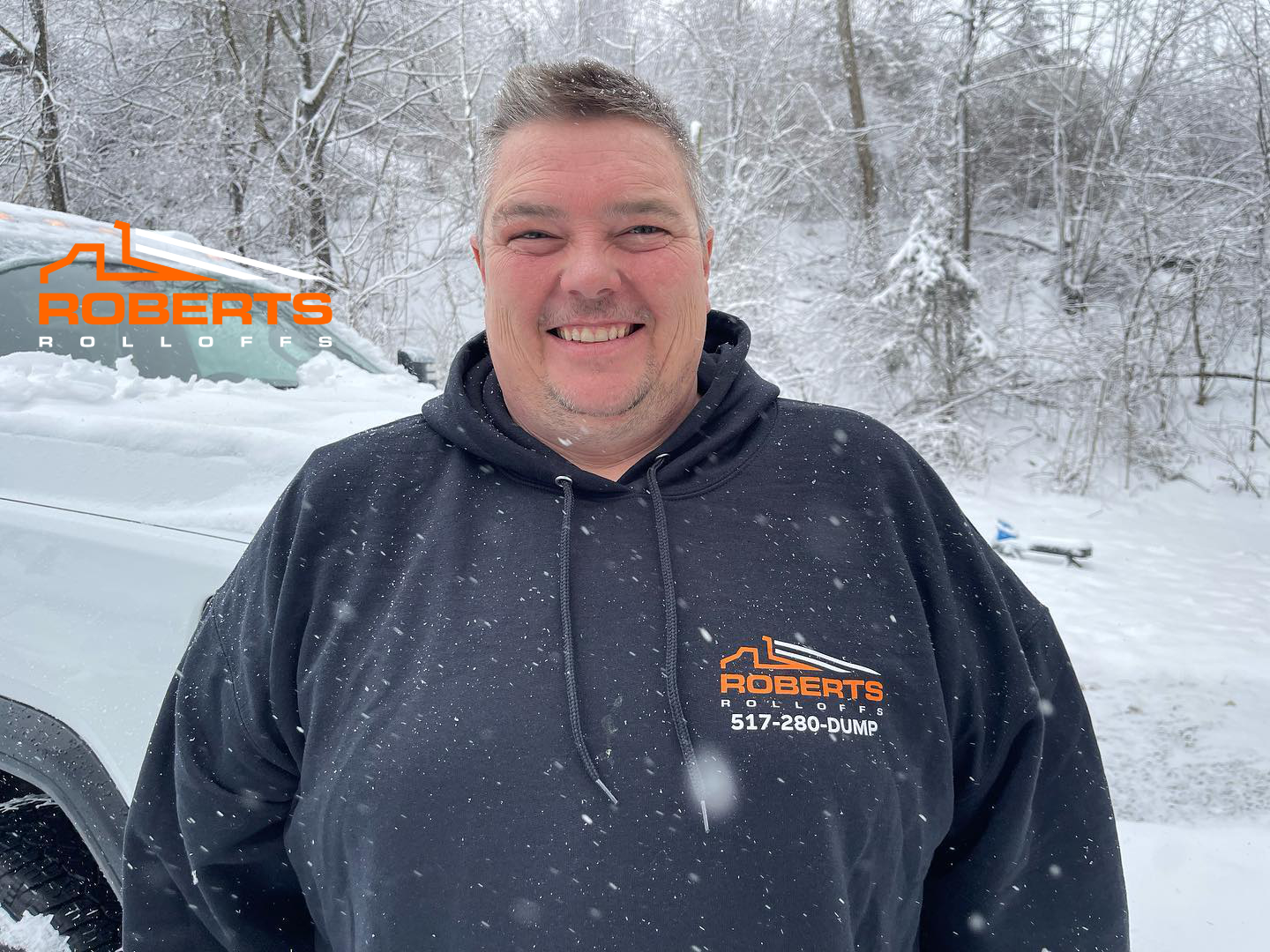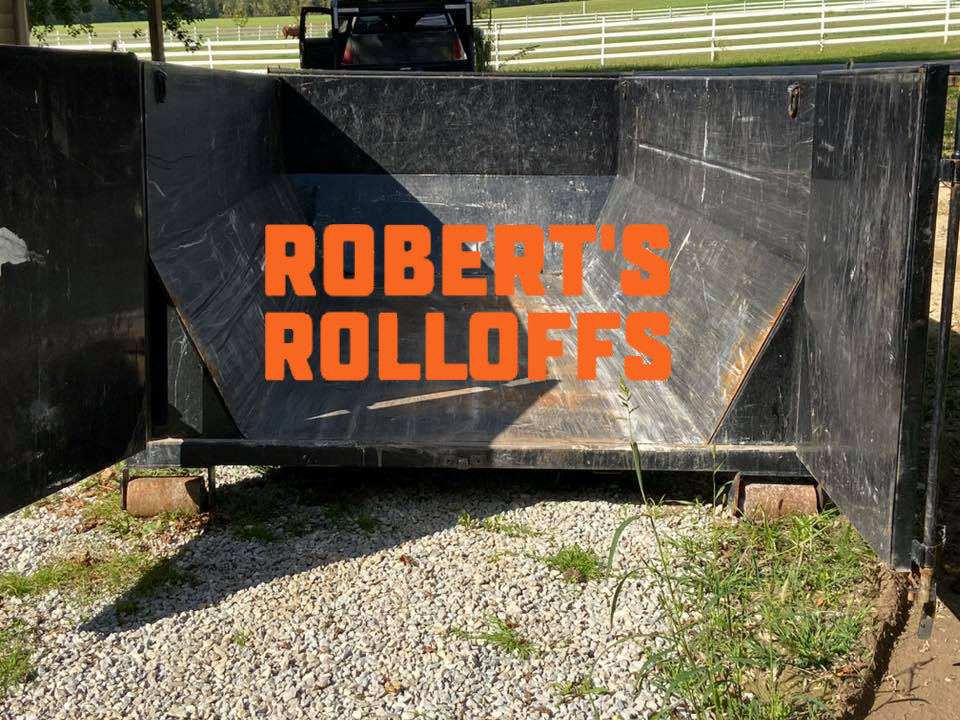 Roll Off Dumpster Rental Milan MI Business Owners Depend On
We are proud to provide the roll off dumpster rental Milan MI local business owners rely on for efficient waste containment at their various commercial locations. We provide permanent dumpsters to all types of businesses including restaurants, gas stations, hotels, shops, and banks with regular weekly waste removal options. Whether you are seeking a single-use dumpster to clean up a commercial space or you manage an apartment complex and need ongoing waste containment support, we're confident that you will benefit from our various dumpster selections.

Businesses have quite a number of projects that necessitate waste removal from time to time. From cleanouts to general repairs and maintenance projects, we have partnered with property managers and local business owners to supply them with roll off dumpsters year-round. You have most likely seen our roll off dumpster rental Milan MI business owners use at retirement facilities, retail stores, warehouses, factories, and other establishments. Contact the team at Robert's Roll Offs at (517) 280-3867 or reserve your rental online with a few easy clicks.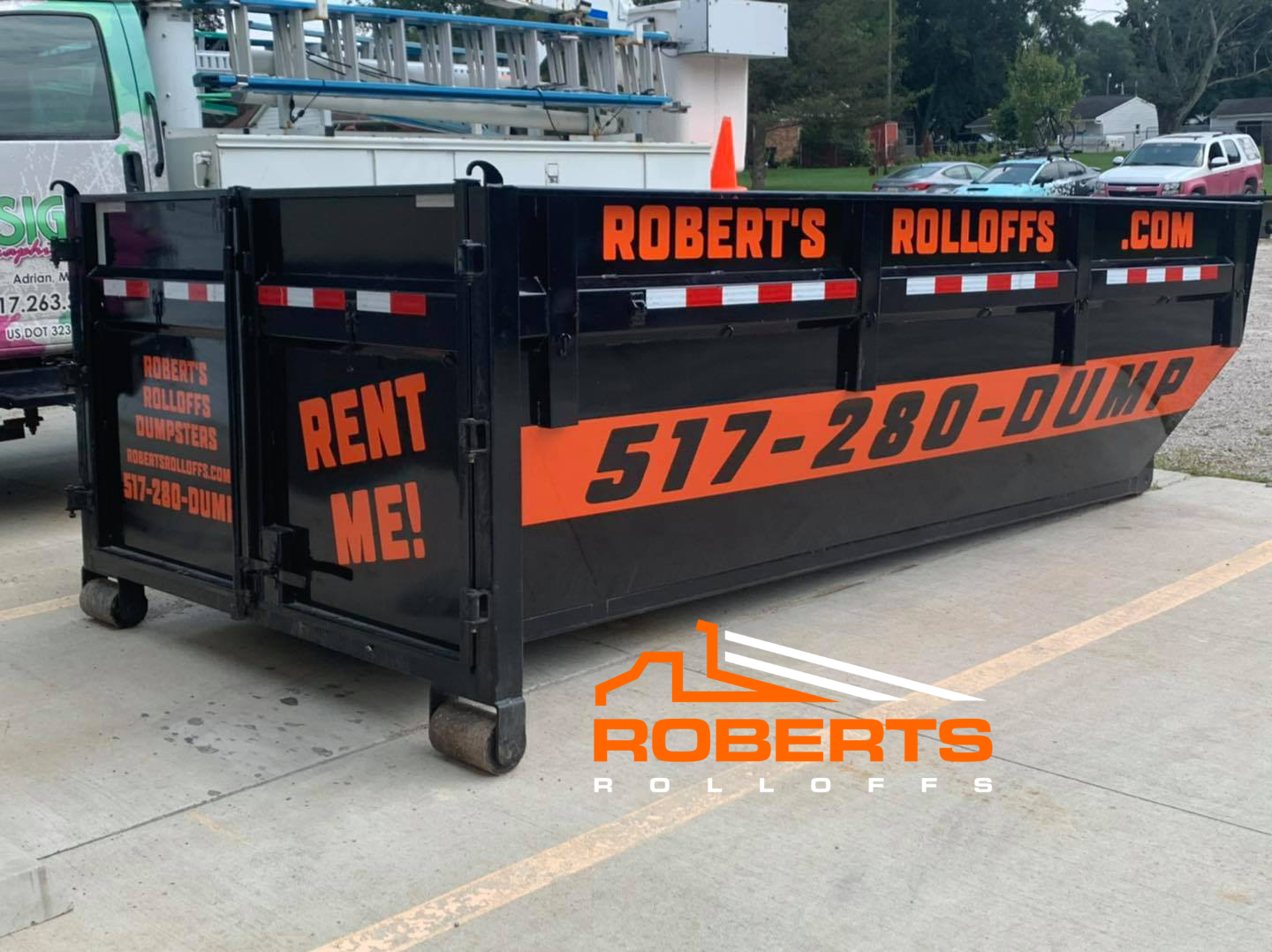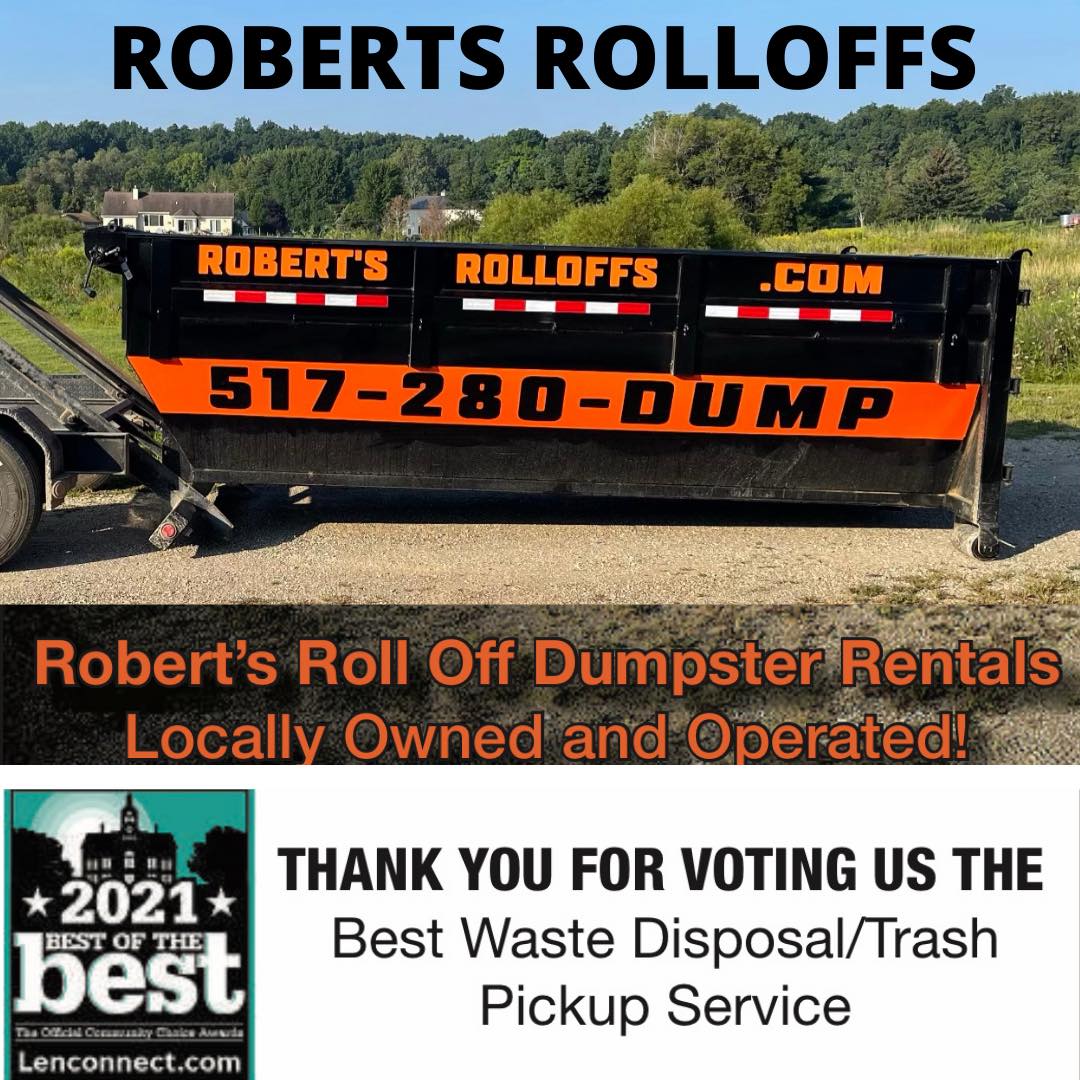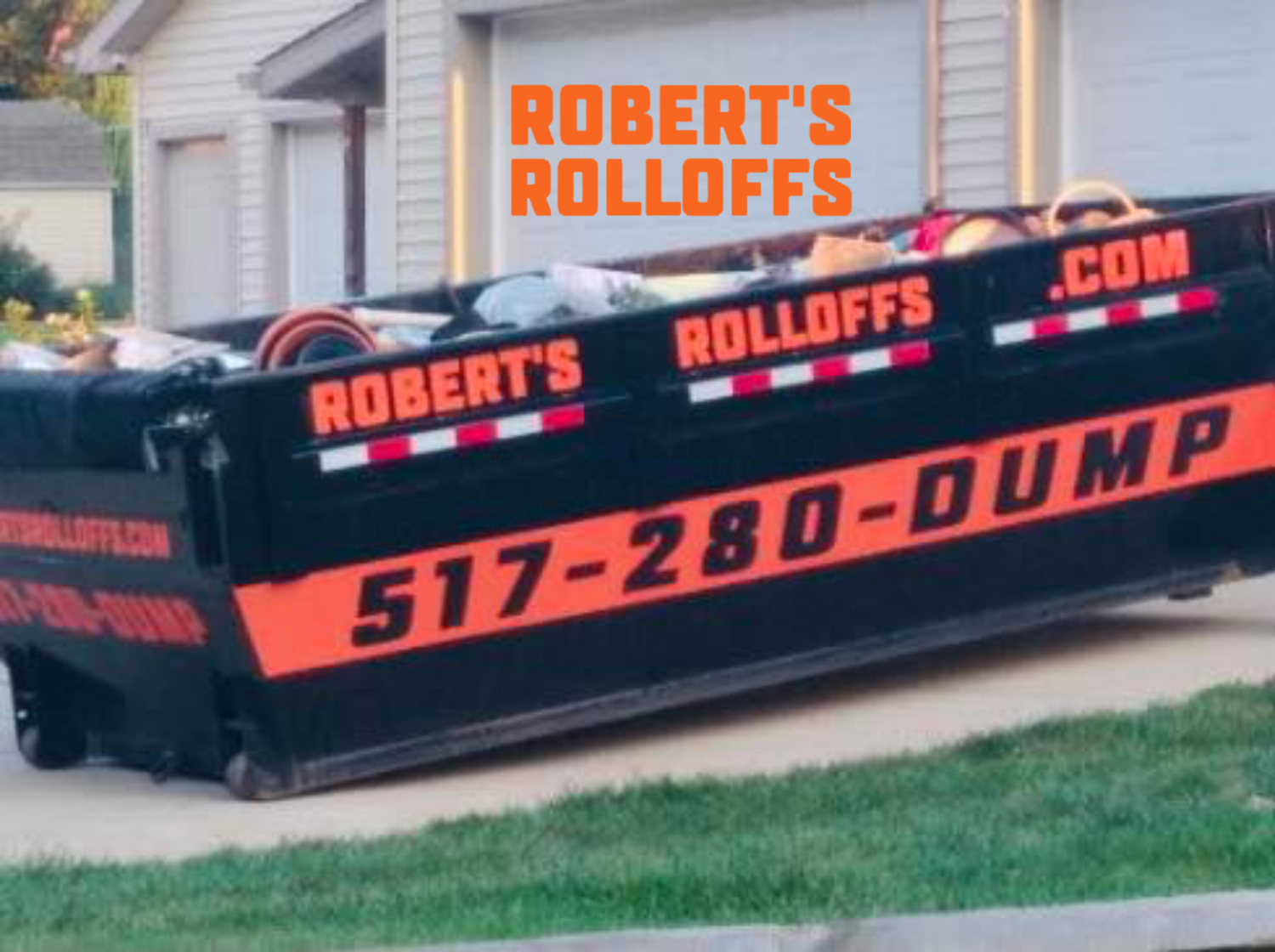 Reliable Milan MI Dumpster Rental for Homeowners
Contact Robert's Roll Offs for the Milan MI dumpster rental homeowners use year-round. Planning to start a home improvement project, a fun yard maintenance project, or even a full home cleanout to get rid of heaps of junk cluttering your home? With a reliable and heavy-duty dumpster rental that can handle almost all types of waste, residential DIY projects are hassle-free, cost-effective, and efficiently managed. We are committed to providing a portable dumpster Milan MI residents count on year-round at economical prices. Our roll off dumpsters are invaluable for landscaping and outdoor projects, driveway demolitions, roofing repairs and replacements, furniture removal, downsizing, basement, attic, and garage cleanouts, and other projects around the home.

We offer four convenient dumpster sizing choices and we have no doubt that you will find the ideal bin that meets your requirements no matter how large or how small your project is. Our experienced staff is available to help you in case you need any assistance or if you have concerns regarding the best Milan MI dumpster rental that will be able to haul away all your waste. Let us handle the heavy lifting so you can focus on your home renovation or cleanout project.

Durable Milan MI Dumpster Rentals for Yard Waste
Homeowners and professional landscapers use our Milan MI dumpster rentals for a wide range of debris removal projects. Trying to get rid of the waste yourself can be stressful, especially if you need to make multiple trips to the landfill. An easy-to-load container makes yard waste disposal a hassle-free process that will save you time and money in fuel costs. Our dumpsters can accommodate tree trimmings, shrubs, leaves, and even an old swing on your porch.

If you are searching for durable Milan MI dumpster rentals for yard waste removal, Robert's Roll Offs has you covered. We are the top choice for a local dumpster rental company that provides suitable selections for yard waste and landscaping debris removal. Don't allow the unwanted brush to diminish the aesthetic of your lawn when renting a dumpster Milan MI residents and businesses trust is as easy as giving us a call.

We Take Just About Everything
Some examples of the junk we haul away include
Refrigerator Disposal

Garbage Removal

Mattress Disposal

Foreclosure Clean Outs
Construction Waste Removal

Yard Waste Removal

Trash Removal

Appliance Removal
Television Disposal & Recycling

Furniture Removal

E-Waste Disposal

Hot Tub Disposal
How to Book Our Dependable Milan MI Roll Off Dumpster Rental
Ready to reserve the best Milan MI roll off dumpster rental to complete your next commercial or residential project? We have made the dumpster rental process fast, simple, and streamlined to save you the hassle, time, and energy so that you can focus on your project. You can choose to reserve a dumpster online using our convenient reservation tool with a few clicks or get in touch with our team at (517) 280-3867 to get started today.

If you'd prefer to book a City of Milan MI dumpster online, simply follow the steps below:

1) Click the orange "Book Now" button located on the top-left corner of our website or select the "Dumpster Rental" button on the menu bar and you will be automatically directed to our dumpster selections.

2) View all the dumpster selections we offer, the price and details for each rental, and choose which one to reserve, then click on the "Book Now" button to proceed with the reservation.

3) Confirm the dumpster rental specifics such as the dumpster rental prices, weight allowed, dumpster dimensions, rental time, and rent time extension options, then click the "Add to Cart" button to proceed.

4) Select the service type for the dumpster rental (residential or commercial) then select the "Continue" button to proceed.

5) Choose the dumpster drop-off date and pick-up date, then proceed to checkout by clicking the "Checkout" button on the right.

6) Include the required delivery details, dumpster placement, details of the waste to be removed, and your contact information, then sign the digital contract and select the "Continue" tab to proceed.

7) Submit your payment information and finish the checkout process. We accept all major credit cards.

That's all there is to it! You can reserve a dependable Milan MI roll off dumpster rental for any project with just a few easy clicks while on the go, using your phone or computer. Once you have submitted the payment details and completed the checkout process, you will receive a confirmation email including a digital copy of the signed contract and receipt of payment. A member of our team will give you a call to confirm the delivery drop-off window before the actual delivery date. If you have any questions about our dumpster selections, pricing, or booking process, please contact us. We're here to help! We have years of experience in the industry and you can count on us to handle your waste management so that you can focus on other important details.
Sizes and Prices for Our Milan MI Roll Off Dumpster Selections
At Robert's Roll Offs, we have no doubt that we carry the Milan MI roll off dumpster selections in the best sizes that homeowners and businesses can use to complete a wide range of projects. Whether you are planning a garage or full home cleanout, managing a foreclosure cleanout, or getting rid of old furniture or appliances, we're confident we have the best dumpster size for your project.

12 Yard: The 12-yard dumpster is the dumpster of choice for anyone who needs a small dumpster rental Milan MI homeowners choose for small DIY home improvement projects. Measuring 14' long by 8' wide by 6' high, the dumpster costs $325 to rent for up to seven days and includes 1.5 tons of weight per rental. You can request a rent time extension at an extra $15 per additional day and extra weight can be purchased at $100 per ton. This rental is perfect for DIY home improvement projects such as yard maintenance, bathroom remodels, and more.

14 Yard: If you are looking for a slightly larger container for your waste management needs, you can consider renting a 14-yard dumpster. This container measures 14' in length by 7' in width by 4' in height and can be rented at $350 for up to seven days with two tons of weight included in the base price. You can purchase rent time extension at $15 per additional day and additional tonnage at $100 per additional ton. This dumpster is perfect for larger home renovations and clean-ups as well as landscaping debris removal, commercial clean-ups, and other projects.

18 Yard: The 18-yard dumpster is our second largest dumpster and can be used for larger waste management projects from residential homes and business premises. This dumpster measures 14' long by 7' wide by 6' in height. You can rent our 18-yard dumpster at a $400 base price for up to seven days, and you can purchase a rent time extension at $15 per additional day if you need more time to complete your project. The rental is inclusive of two tons of weight and you can purchase more weight at an additional $100 per ton.

20 Yard: If you are searching for a large dumpster rental Milan MI residents use, the 20-yard dumpster is the best choice. This container measures 14' in length by 7' in width by 6' in height and can be rented at $425 with a rent time extension of $15 per additional day. This is our largest dumpster and is suitable for commercial cleanout projects, full home cleanouts, housing developments, demolitions, and big roofing projects to name a few. This rental includes two tons of weight in the base price and you can also purchase an additional weight allowance at $100 per ton.

We have four versatile dumpster sizes that more than meet the requirements of most of our residential and commercial customers' projects. Don't hesitate to submit your questions about our budget dumpster rental Milan MI depends on the contact form on our website. You can also contact our team by text or phone call at (517) 280-3867 for a free consultation.

FAQs About our Garbage Dumpster Milan MI Uses for All Projects
We have delivered the top garbage dumpster Milan MI residents choose for all their projects to hundreds of customers over the years. From time to time, we get questions from customers with different types of projects regarding our dumpster options, pricing, and our policies. We have compiled a few frequently asked questions that we often receive about our residential and commercial dumpsters. If you have any additional questions or need more information, don't hesitate to contact our team for further clarification.

1) How much does it cost to rent a dumpster?

If you've been wondering what the cost to rent a dumpster Milan MI can count on is, you're in the right place. We offer four dumpster options for you to choose from and each dumpster size has a different base price. We do our best to keep our dumpster rental costs low to ensure that we are able to cater to everyone who needs a reliable roll-off. Our prices range from $325 for a 12-yard to $425 for a 20-yard. Customers can also purchase rent time extensions at $15 per additional day beyond our standard 7-day rental. Costs may vary depending on how much waste you are planning to dispose of and the length of time you want to use the dumpster. We understand most people are searching for a cheap dumpster rental Milan MI can count on, but along with cost-effective solutions, we prioritize stellar customer support and on-time delivery as your all-inclusive waste management provider.

2) What type of waste cannot be loaded into your roll off dumpsters?

All of our garbage dumpster Milan MI customers can attest that our selections are durable and heavy-duty. They are built to accommodate a wide variety of waste following most residential, commercial, and construction projects. However, there are wastes we don't allow in our roll off containers in accordance with city, county, and state guidelines. Toxic items such as gasoline, motor oils, asbestos, paints, medical waste, and flammable liquids are prohibited. Get in touch with our team for a full list of items we do not allow.

3) Do I need to be present during delivery and pick up?

You don't need to be present when our driver is delivering the dumpster. You only need to leave clear dumpster placement and other necessary delivery information to ensure that the driver can access the placement site without any issue when you're checking out using our online system. Make sure that there is nothing obstructing our delivery team from accessing the placement area during delivery or pick up and we'll be good to go!
Delivering the Best Milan MI Garbage Dumpster to Surrounding Areas
We take pride in delivering the best Saline MI garbage dumpster selections to the 48176 zip code and surrounding communities in Washtenaw County including Tecumseh, Clinton, Hudson, Manchester, Onsted, Brooklyn, Dundee, Milan, and most of Adrian. If you don't see your city or zip code listed here, just contact the team at Robert's Roll Offs to learn more about how we can make accommodations to deliver a roll-off to accommodate your specific needs.

Our vision is to provide the best Saline MI garbage dumpsters for all residents, businesses, and contractors within our service area radius. We aim to keep the communities we service free of waste and we frequently partner with contractors, organizations, retirement facilities, businesses, homeowners, and even the Saline Area Schools to supply them with permanent and temporary roll-off dumpsters for all waste management needs.

As a locally-owned and operated dumpster rental provider, we believe that it is our responsibility to provide sustainable and cost-effective waste disposal solutions. This is why we strive to supply the most affordable dumpster rental Saline MI has to offer and we have built a reputation as a top source of service and support. Book a roll off container online or by reaching out to us at (517) 280-3867.
Positive Reviews for Our Milan MI Dumpster Services
We have built long-lasting business relationships with contractors, homeowners, and local businesses and we have received many 5-star ratings and positive reviews for our Milan MI dumpster services as proof of this. No matter what waste removal project you are planning to start, you can trust the experienced, friendly, and dependable team at Robert's Roll Offs to provide you with all the support you need for success.

Get your residential or commercial garbage disposal job done right the first time with a roll off dumpster Milan MI relies on. We can handle all types of projects, from smaller DIY residential projects to large-scale roofing replacements, construction, and demolition clean-ups. We care about the overall success of your waste disposal. Check out some of the 5-star ratings and feedback from our previous clients about our waste management services and reserve your Milan MI dumpster now.